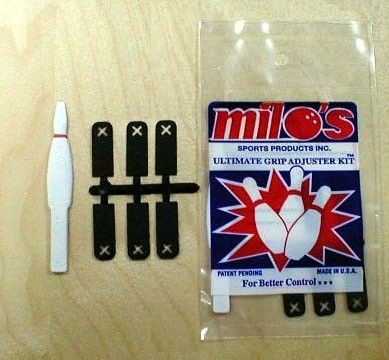 Used by top professional and tournament bowlers, Milo Sports Adjust A GripTM will give you the ultimate in comfort, control and scoring.

The complete 7 piece kit includes six Adjust A Grips and a reusable tool. Inserting your new sports grip is as easy as tying your shoes. Just place the Adjust A Grip behind the top of the finger grip inserts in your bowling ball and there you have it! You can use one or more depending on your needs.

Professional Bowlers know the importance of a proper grip. Even with a properly drilled bowling ball, your fingers will expand and contract due climate and body temperature. The Milo Sports Adjust A Grip inserts have been proven to help bowlers attain the right grip each and every time.

Discover what thousands have already found out, Milo Sports Adjust A Grip works and keeps on working to provide you with the ultimate in comfort, fit and performance.
Made in the USA - Patent Pending

ALL NEW JADE Kit Now Available! Click Here For More Info!